We all know that traditional investing has rules but life doesn't.
At Emperor we believe that you should be able to access your invested emergency savings when the need arises.
We don't believe in sending your money on vacation to some foreign country with poor cell reception. We put your investment in your pocket, close to your heart, where you have instant access when you need it, with an industry-first debit card that links directly to your investment account.
New to Emperor?
Let us call you!
All fields are required
Already an Emperor account holder?
T
he Emperor Asset Management Debit Card is the first of its kind in South Africa. It links directly to your Emperor investment account, giving you immediate access to a portion of your capital. The days of keeping your emergency savings in the bank are over! Now you can attract investment-level returns without sacrificing convenience.
No delays, no fuss. Simply swipe your card to access your investment cash should you ever need it and rest assured that, in the meantime, your investment will continue to work for you.
This innovation in investment is only available to customers with a minimum investment of R50 000 in either the Robert Falcon Scott or Sir Edmund Hillary investment strategies.
It's always been your investment – it's time it felt that way.
How it works
Once you have signed up for the Emperor Debit Card we will make 5% of your total investment available to you at the start of each month.
Your Emperor Debit Card can be used to pay for goods or services at any merchant that has a credit card machine. Simply present the card as you would your regular debit or credit card. No pre-authorisation is needed.
You can also use your card to draw cash at any ATM or till point (at participating stores).
Your investment continues to generate returns as normal.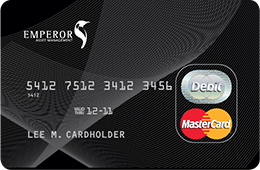 Be disciplined. Be responsible.
It's important to remember that, of course, we aren't encouraging irresponsible spending of your investment. In an ideal world your money would continue to grow without any need for withdrawals. But that's not realistic and we want you to be prepared for whatever life throws your way. Because, after all, what's the point of having a safety net if it can't catch you when it needs to?
We believe that your money – all your money –
should work as hard as possible for you at all times.
Your card can be used in the case of an unexpected emergency.
There are no penalties for accessing your available funds.
There's no need to request a withdrawal. You can use your card to withdraw cash or pay directly for goods and services.
Monthly investment income is even easier to access! No more lump-sum withdrawals each month.
The unused portion of your monthly allocation stays in your investment account which means that you earn interest on a par with the rest of your money.
There is no notice period and 5% percent of your total investment is available instantly.
The balance of your investment (the other 95%) is still available, as it always has been, within 36 hours of a withdrawal request.
Why sign up?
The Benefits
Below are the indicative returns comparison of the Emperor Asset Management Robert Falcon Scott strategy vs. leaving your money in the bank (i.e. the STeFI)* for amounts of

R20 000

and

R50 000.
Investment
strategy
Returns 3 years
Returns 5 years
Returns 10 years
in Robert Falcon Scott Strategy
STeFI Index*
in Robert Falcon Scott Strategy
STeFI Index*
** Based on actual data as at August 2015.
Transaction Costs
Withdrawal costs subject to individual bank charges. See the table on the right.
Transaction Description
Fee
ATM Withdrawal (local)
R4.75 + 85c/R100 or portion thereof
ATM Balance Enquiry
R3.50
Point of Sale
Fee
Local Purchase
R4.75 + 85c/R100 or portion thereof
Your investment should feel like money in the bank.
* The STeFI Composite Index is the benchmark used by most money market funds. It consists of the overnight interbank call rate and the rates of negotiable certificates of deposit (NCD) of various maturities.
*** Past returns are not an indicator of future returns. The returns for the Robert Falcon Scott strategy can be accessed on the Emperor Asset Management website or by clicking here. Indications of how investing compares to saving can be obtained via written request to info@emperor.co.za.